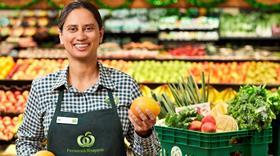 Australia's largest retailer, Woolworths Group, has announced it will power its entire operations with renewable electricity by 2025, on the road to net positive carbon emissions by at least 2050.
The ambitious power pledge is part of the retail group's newly announced Sustainability Plan, which charts its path to 2025.
The plan includes a range of initiatives across three key pillars - Planet, Product and People – for what it says will help deliver a better tomorrow for Woolworths customers, team members, communities and the environment.
The Group's transition to renewable energy represents significant investment in the sector over the next five years. Woolworths will partner on new build renewable energy projects to amplify its contribution to growing the industry and is calling on green energy operators to help it make the large-scale transition across all its stores and support operations.
The Group has also pushed its emissions targets further, committing not only to reach net neutral carbon emissions, but to make its operations net carbon positive by at least 2050, meaning it will remove more carbon from the atmosphere than it produces
Woolworths Group chief executive, Brad Banducci, said: "Moving to 100 per cent renewable electricity is the right thing to do, and something a growing number of our customers, team members and shareholders expect us to lead on.
"It represents a significant acceleration in our ambition to reduce carbon emissions for the health of our planet and the communities we serve across Australia and New Zealand," he said.
Woolworths accounts for around one per cent of Australia's total national electricity use, which Banducci believes provides a unique opportunity for it to use its scale to make an impact.
"Over the coming years, we'll invest tens of millions of dollars into renewable energy partnerships and prioritise new green energy projects to spur growth in the industry and new jobs in the sector," outlined Banducci.
"We believe this will not only be a positive for our business, but also contribute to a better tomorrow by making green energy accessible to more Australians."
Woolworths Group also released a range of other key initiatives as part of it's Sustainability Plan 2025, including having zero food waste go to landfill from Woolworths operations by 2025.
It plans to do this by redistributing 100 per cent of edible unsold food to food relief partnerships with organisations like OzHarvest, Foodbank and FareShare and relationships with local community groups.
In the realms of packaging, Woolworths has said it will make 100 per cent of packaging on its own brand products recyclable, reusable or compostable.
The Group has also committed to net zero supply chain deforestation for high-impact commodities in its own brand products like palm oil, timber, pulp and paper, and packaging by 2025.