Partnership with InvertiGro will see fresh herbs grown in Metro Park Sydney Village store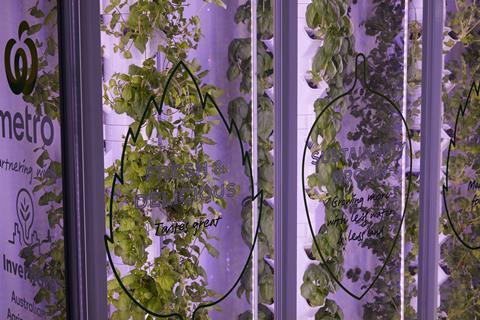 Woolworths had partnered with ag-tech company InvertiGro to launch an in-store vertical farm at Metro Park Sydney Village.
Consumers will be able to purchase fresh herbs from the innovative indoor farming solution – dubbed The Urban Garden – located in the fruit and vegetable department of the store.
The herbs begin their life at the InvertiGro indoor farm in Rosebery, less than 2km from the Woolworths Metro Park Sydney store. Fully-grown herbs are then transported to the store ready for sale, whilst others are transplanted into the in-store vertical farming wall where shoppers can watch them continue to grow.
Woolworths Metro director Justin Nolan said this offering was an Australian supermarket first that put a new meaning on buying local.
"This is a great opportunity for Metro Park Sydney Village customers to connect with the provenance of their produce and an exciting platform for Woolworths Metro to create greater awareness for innovative Australian farming methods," said Nolan.
"Metro Park Sydney shoppers will notice InvertiGro takes up a small amount of space in-store and is a great non-waste initiative for our customers. We look forward to our shoppers using the hyper-local fresh herbs available at the Urban Garden to garnish and add flavour to home-cooked meals."
InvertiGro co-founder Paul Millett was excited to partner with Woolworths Metro and deliver hyper locally-grown basil, parsley, mint and coriander, all while introducing consumers to a new way of farming.
"Through growing close to where our produce is going to be consumed, InvertiGro reduces food waste considerably by reducing the amount of food lost in transportation and handling," said Millett.
"By providing fresh usage-size bunches we also aim to reduce the waste once consumers take them home. What's generally discarded, such as stalks (although these can often be used in cooking too), the root-ball and growing media of herbs can all be put in the green-waste recycling, whilst the paper-based packaging is also 100 per cent recyclable in the kerbside paper-bin."