Leading European fresh produce marketer Total Produce has pipped its competitors to an unusual marketing milestone by successfully launching the first pumpkin into space as part of a campaign to promote its new TOP Fruit Hub.
Patches the pumpkin recently joined the Ireland-based group as head of extra-terrestrial marketing and, rather than spend Halloween on a cold doorstep scaring little children, he opted for a more ambitious project that would encourage youngsters to take more interest in fresh fruit and vegetables.
So, with the help of grandfather Eugene Murray and his grandson Sebastian, Patches soared into space from a special launch site in County Wicklow, Ireland, following in the zero-gravity footsteps of Albert the monkey, Laika the dog, Russian cosmonaut Yuri Gagarin, Felix Baumgartner, Buzz Lightyear and those pigs out of The Muppets.
The build-up to launch as well as the journey itself were captured on film, which can be seen below. Eugene and Sebastian were able to scan a QR code on the pumpkin and view a special video that showed them how to bring Patches to life by carving out his face.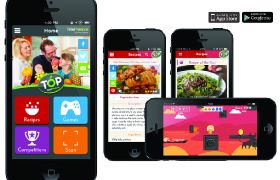 The logistical challenges associated with Patches' stargazing supply chain were considerable. The intrepid Irishmen constructed a special rig for Patches, then attached a large, helium-filled balloon and a mounted camera as well as a parachute before launching him into the sky.
Racing upwards at five metres per second, Patches was soon high up in the stratosphere, around 32km above the Earth and faced with temperatures as low as -20°C. When the balloon finally burst, the plucky pumpkin's half-hour descent was tracked by GPS and he was greeted on landing by an overjoyed Sebastian.
"The entire descent took Patches about 30 minutes and thanks to the safe deployment of is parachute, Patches made it home safe and sound if just a little dehydrated," commented Vincent Dolan, European marketing manager at Total Produce.
Total Produce's new TOP Fruit Hub app for smartphones is designed to celebrate finding the fun in fruit.
Alongside Patches' astronomical adventure, users can also find over 150 videos, games and competitions, plus a scanner that works with codes on Total Produce fruit packaging.
"With regular content updates the aim of the app is to act as a go-to resource for fruit enthusiasts, as well as those looking for some inspiration when it comes to adding fun to fruit," Dolan added.