Asiafruit's China Edition tracks market recovery following lockdowns while Haygrove Asia MD Michael Oates discusses the opportunity for high-value horticulture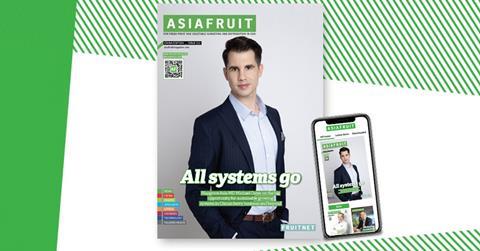 The July/August 2022 edition of Asiafruit Magazine is now available on the Asiafruit app – Apple and Android – bringing you the latest news and views from across Asia's fast-moving fresh produce markets.
Asiafruit's China Edition includes insights from leading players to the impacts of China's Covid-zero policy and the latest market trends.
Lockdowns in Shanghai and other key cities over the past few months have taken their toll on the country's fresh produce business. But as things gradually open up, there is cautious optimism in the trade, driven by the continued growth of consumer demand.
From surging demand for home deliveries to the rapid evolution in online marketing activities, Asiafruit's report highlights how the pandemic continues to shape the market in China.
This edition's keynote interview features Michael Oates, founder of Haygrove Asia. Oates details the progress the business has made since it established berry farms in Yunnan Province in 2017 and the opportunities and challenges to the development of high-value horticulture across China and Asia more broadly.
Categories under the spotlight include citrus, table grapes and avocados. As the Southern Hemisphere citrus season continues, we bring you the latest news from key suppliers such as Australia and South Africa.
Read the latest updates on California's table grape campaign and an interview with Frutura's David Krause on his company's plans and strategies for year-round category supply.
Asiafruit July/August's avocado coverage examines the prospects for the New Zealand avocado industry as it targets Asia and recaps key insights from the 2022 Global Avocado Congress.