New Zealand special explores how premium supplier is well placed to weather recent storms while Fresh Focus South African Table Grapes tracks industry refocus on quality and taste
The March 2023 edition of Asiafruit Magazine is now available on the Asiafruit app – Apple and Android – bringing you the latest news and views from across Asia's fast-moving fresh produce markets.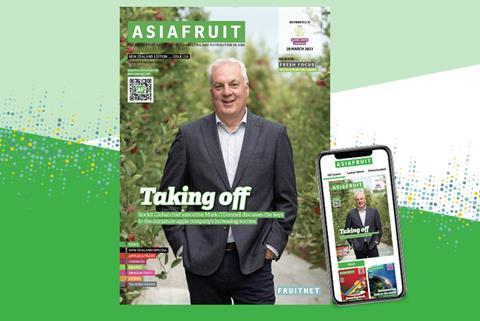 The New Zealand Edition provides an in-depth focus on the nation's key horticulture export sectors as they head into their 2023 campaigns.
The kiwifruit and apple industries have been presented with a number of challenges of late, including the recent Cyclone Gabrielle. Read how these industries and others have prepared to weather the storm by leveraging the advances made in varietal and brand development and technology over recent years.
New Zealand's avocado industry also provides an update ahead of hosting the World Avocado Congress in April 2023.
This month's keynote interview with Rockit Global CEO Mark O'Donnell provides an example of some of the innovative approaches to growth coming out of New Zealand as he discusses Rockit's expanding production footprint and the company's unique approach to marketing.
Bound into this edition is Fresh Focus South African Table Grapes 2023, the annual spotlight on South Africa's table grape industry. The supplement details a refreshed approach by the industry as it sharpens its focus on quality and taste to consolidate recent production growth and market diversification.
Also featured is the latest news from various categories, including apples and pears, citrus and dragon fruit, plus a wrap-up of the recent Chilean cherry season.