Indonesia edition includes spotlight on market's Covid recovery and special report on Asia's durian trade – and it's free to access for Asiafruit Congress Online Preview attendees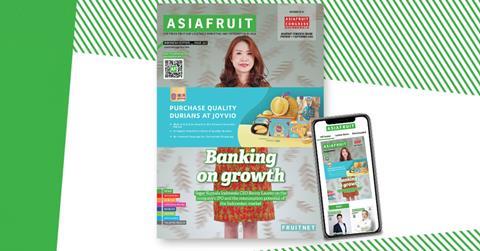 The September 2022 edition of Asiafruit Magazine is now available on the Asiafruit app – Apple and Android – bringing you the latest news and views from across Asia's fast-moving fresh produce markets.
Asiafruit's Indonesia edition highlights the potential in the populous South-East Asian nation. The market is on the road to recovery following the pandemic, with fruit imports surpassing pre-Covid levels despite lingering challenges.
The growing confidence in the future of Indonesia's fruit market is exemplified by Segar Kumala Indonesia, which just completed its IPO. Chief executive Renny Lauren details the opportunities to grow consumer demand for fruit in this month's keynote interview.
Asia's booming durian trade is also spotlighted in a special feature that combines the latest news from key suppliers and markets. Plus, Joy Wing Mau discusses the journey of its leading durian brand, Joyvio Durian.
Asiafruit September includes a report on Asiafruit Congress Online Preview, which broadcasts live from Fruitnet's offices in Melbourne and London on 7 September. This edition is free to access to all who register for the event and it gets readers ready for the extensive and insightful programme.
Also featured in this issue are category reports on apples and pears, berries and avocados.