Packaging company adds new production factory in Japan and increases sales and logistics capacity in Australia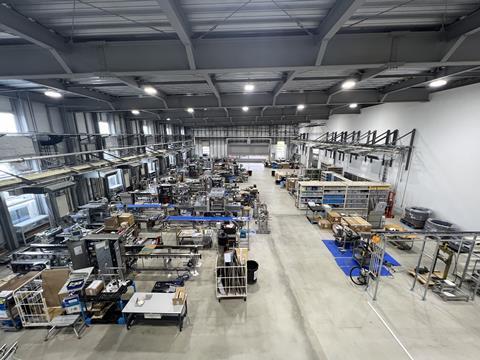 Multivac has expanded its operations in the Asia-Pacific region bolstering its footprint in Japan and Australia.
The German-headquartered packaging company announced the opening of a new 14,400 m² production factory in Tsukuba, Japan which it said was an important building block in its expansion strategy.
The factory was opened in July 2022 in the presence of Multivac's joint group presidents, Christian Traumann and Guido Spix, and is already running at full speed.
The facility is already running at full speed and features a €20m (US$19m) state-of-the-art test center, which has five times the capacity of its predecessor, plus an assembly hall, spare parts warehouse and showroom.
The new site brings together two areas of production, which up to now had been separate: whereas die production had been carried out in the nearby city of Toda, assembly had been concentrated in Abiko.
"In order to be able to better serve the important Japanese market, as well as fully exploit the growth potential in the area of system integration, it was necessary to have a completely new concept. Despite continuous improvement in manufacturing processes, we had reached the limits of our capacity," explained Spix.
Hata said the COvid-19 pandemic had created an increased demand for packaged products, which Multivac needed to meet.
"We Japanese place great value on healthy and high-quality food, which we have traditionally preferred to buy fresh and unpackaged. But during the corona pandemic the behaviour of consumers changed dramatically. They started to demand secure and hygienic packaging concepts, particularly for fish, vegetables, meat, bakery products and convenience foods," said Hata.
"This can for example be achieved particularly well with MAP solutions, the Modified Atmosphere Packaging applications provided by Multivac. Here the natural atmosphere in the pack is replaced with a gas mixture, which is matched to the product in order to maintain its form, colour and freshness, and therefore also to extend the shelf life of the product.
"This is important, because there is a much greater negative impact on the environment from food, which must be destroyed if it no longer has the shelf life and taste or nutritional properties. As a result of this, there has been a significant rise in demand for Multivac packaging machines, given the comprehensive advice and support we are able to provide."
Australian expansion
Multivac has also expanded its Australian operations moving its Queensland subsidiary into a new larger building to significantly increase its sales and logistics capacity in the state.
Multivac has been represented in Australia for 14 years with its headquarters in Melbourne and subsidiaries in Western Australia, Queensland, South Australia and New South Wales. The subsidiary in Queensland recently reached the limits of its capacity for the fourth time.
The new location offers three times as much space as the previous complex which, Andrew Hutchison, managing director at Multivac Australia, said would help the company achieve greater market penetration, faster reaction times to the changing needs in the packaging sector, and rapid supplies to customers on the ground.
"We (the Queensland subsidiary) service a huge area with a total length of around 2,000km. In addition to this, we also serve customers in the Northern Territory, a fairly sparsely populated region of the country. But it doesn't matter, where our machines are installed and used, all our customers can rely at all times on our professional service and delivery reliability," said Hutchison.
Christian Traumann, group president of Multivac said there was a growing requirement in for sustainable packaging solutions in Australia.
"The target set by the Australian Government means that by 2025 100 per cent of all packs in the country must be reusable, compostable or recyclable," said Traumann.
"In addition to this, the increasing awareness by consumers of material-efficient and recyclable packaging concepts, as well as the demand for solutions from renewable resources such as cardboard and other paper fibre-based materials, are fuelling growth on the continent enormously."