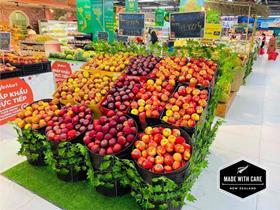 New Zealand grown fruit has been promoted across several Vinmart stores in Vietnam during a two-week event organised by the retailer and New Zealand Trade and Enterprise.
Officially in its second year, New Zealand Fruit Week's aim is to provide Vietnamese consumers access to high quality fresh fruits. Top suppliers from New Zealand teamed up with Vinmart following last year's successful event, with various promotional activities organised from mid-July onwards.
Imported fruits from New Zealand are gaining popularity and trust among Vietnamese consumers, who are increasingly prioritising health and wellbeing.
Fruits are the second-largest food and beverage export category from New Zealand to Vietnam, where many established brands like Bostock, Freshmax, Golden Bay Fruit, Rockit, Mr Apple, T&G, and Zespri are now collaborating with Vinmart to supply Vietnamese consumers with premium quality, farm-to-table, safe, tasty, and nutritious fruits during this New Zealand Fruit Week and beyond.
Apples and kiwifruit have been in high demand in Vietnam, given both have long storage life and offer a good source of nutrition and fibre.
"This is the second consecutive year that VinMart and VinMart+ have joined hands with the New Zealand Embassy to launch a commodity trading week, introducing products imported from New Zealand to millions of Vietnamese consumers," said Nguyen Thi Phuong, deputy general director of Vincommerce.
"With our customer-centric philosophy, VinMart and VinMart+ have carefully selected premium fresh products, directly imported from the world's leading countries, particularly New Zealand.
"We hope to meet consumers' demand and contribute to the community by creating an excellent shopping experience. To achieve these goals, we plan to provide fresh and unique products with premium quality, diverse selection, and a safe shopping environment as Covid-19 continues to plague the country."
New Zealand Trade and Enterprise (NZTE) trade commissioner and consul general to Vietnam, Joe Nelson said he was delighted to have the support of Vinmart to bring New Zealand fruits to Vietnamese consumers.
"Through this collaboration, we want to continue to fulfil the desire of Vietnamese consumers as they look to consume healthy, nutritious, and safe fruits, especially during the pandemic," Nelson said.
"We know how important staying home is currently and we want to support Vinmart to give people the opportunity to order New Zealand fruits online and have them delivered straight to their homes."
New Zealand's ambassador to Vietnam, Tredene Dobson, added: "Despite Covid-19 and all of the difficulties posed by it, I am delighted that trade between our countries continues to grow.
"In the food and beverage sector in particular, we have seen that with strong supply chains and excellent relations between New Zealand exporters and their Vietnamese partners like Vincommerce, we are able to ensure our friends in Vietnam have access to the very best produce that New Zealand has to offer. I look forward to seeing even more New Zealand products and ingredients on Vinmart shelves in the years to come."