Gift box created with Joy Wing Mau features fruit from eight different New Zealand brands and will be sold via wholesale markets and online channels
New Zealand Trade and Enterprise has worked with Joy Wing Mau to develop a new gift box in China highlighting a range of premium fruit varieties from eight New Zealand brands.
The Taste of New Zealand box is filled with fruit with plant variety rights to highlight the country's strength and research and development in this area. It will be made available in Chinese fruit wholesale markets as well as various online and social media channels.
The box contains Zespri Green and SunGold kiwifruit, Envy, Dazzle, Rockit, Jazz, Queen, Cherish, Organic Fuji, Breeze and Sonya apples, plus PiqaBoo pears. These have been supplied by Zespri, Bostock, Mr Apple, Rockit, Freshmax, Golden Bay Fruit T&G Global and Freshco.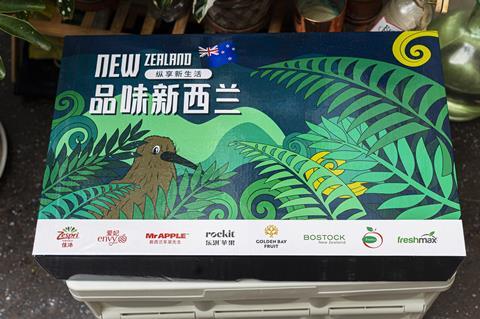 China remains one of the New Zealand fruit industry's most important markets. In 2021, New Zealand fruit exports reached 1.04m tonnes, of which China was the largest export destination, accounting for 14.9 per cent. The value of these exports totalled NZ$3.87bn, of which China accounted for more than 20 per cent.
Over the past five years New Zealand fruit exports to China have grown at a compound annual growth rate of 12.6 per cent.