Indoor vertical farm called GroGrace deploys patented Dutch horticulture technologies
Urban Farming Partners Singapore (UFPSG) has announced the soft opening of GroGrace, its first operational indoor farm located in an industrial park in Jurong, Singapore.
The 650m² facility consists of four 180m² growing floors, the top three of which will be used to grow leafy greens and herbs, while the bottom floor will be used for ongoing R&D for the growth of other kinds of produce.
The current setup is expected to yield 33 tonnes of produce annually. Additionally, a key function of the GroGrace facility is to serve as a training centre for future upscaled Urban Farming Partners facilities utilising patented Dutch horticultural technologies.
The project emerged from public-private partnership and is part of the Partners for International Business programme. The UFPSG partnership includes the Netherlands Enterprise Agency, a government agency with access to a global network of embassies, such as the Embassy of the Kingdom of the Netherlands to Singapore, and private partners Priva, Orange Climate, Signify, Dry Hydroponics, KE GrowAir, Kenlog, KuiperCompagnons, and Walraven.
Together with the Singapore Food Agency (SFA) and local company Bambull, UFPSG aims to promote urban farming in Singapore.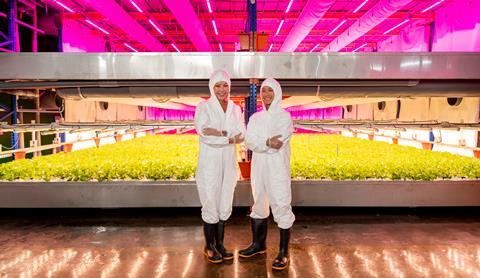 UFPSG's end goal is to become total solutions, turn-key provider for indoor urban farms, integrating proven and patented Dutch technologies that are more sustainable alternatives to traditional horticulture. UFPSG's vision is to build cities' food resilience by enabling high quality vegetables from sustainable growing technologies.
According to UFPSG the GroGrace facility is the only indoor farm where multiple layers of dry hydroponics systems are used. It is also the first vertical indoor facility farm that utilises a growing space with an aspect ratio exceeding 40 per cent which greatly benefits air circulation and uniformity of climate. This prevents stresses to the plants and provides the flexibility to grow taller crops like leek.
GroGrace's vertical design is scalable, and can be easily assembled, making it suitable for highly urbanised countries like Singapore.
The opening ceremony for the GroGrace facility was held on 3 August annd attended by dignitaries including Amy Khor, Singapore's senior minister of state for sustainability and the environment, Margriet Vonno, ambassador of the Kingdom of the Netherlands to Singapore, and Ahmed Aboutaleb, Mayor of Rotterdam.
At the ceremony Vonno commented on the display of the Netherlands' relationship with Singapore, as well as the Netherlands' motivations for international collaboration in general.
"UFP is a showcase example of our excellent relationship with Singapore, and the embodiment of the Netherlands international positioning strategy which quotes: Solving global challenges together," said Vonno.
Co-Founder and chief executive of UFPSG Grace Lim, said GroGrace signalled to the local government, as well as domestic and international investors, the impactful potential of urban, indoor farming technologies to reduce Singapore's dependence on imported produce.
"My keen interest in sustainable farming has prompted me to grow vegetables in my own garden six years ago. Ever since, I have been driven to establish the first facility in Singapore utilising 100 per cent Dutch horticulture technologies, as I believe in the Dutch's vision of feeding the world by turning growing cities into thriving farms," said Lim.
"GroGrace makes it evident that vertical urban farming is feasible and scalable in Singapore and the region. I am certain that this facility, as well as this collaborative exchange of ideas with our Dutch partners, will serve as the springboard for further innovation in Singaporean agritech, as well as Singapore's progression towards a more self-sustaining nation."