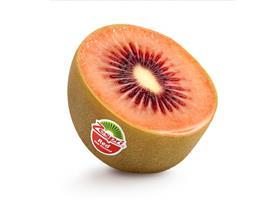 Consumers in New Zealand and Asia will soon get a taste of Zespri Red Kiwiftuit after a decision was made by the Zespri board to commercialise its red kiwifruit variety for New Zealand growers.
Limited releases of the variety will be available in selected supermarkets and fruit retailers in 2020 and 2021, as production increases towards commercial volumes in the coming years.
Dan Mathieson, chief executive of Zespri said the decision is a significant milestone and representsthe next step in Zespri'smission of providing a world-leading portfolio of premium branded kiwifruit.   
This announcement is a result of more than a decade of work as Zespri had run advanced pre-commercial trials for a red variety back in 2010 but faced a significant setback when Psa-V arrived in New Zealand. More recently it had run successful market testing in New Zealand and Singapore.
"After incredible feedback from our passionate consumers, we're really excited to announce we will be making our new Zespri Red variety available to consumers, with production set to increase in New Zealand over the next couple of years so that we can reach commercial volumes," Mathieson said.
"Adding a red kiwifruit variety to our range of premium kiwifruit provides Zespri with an opportunity to further compete for market share in areas where kiwifruit is currently under-represented and ultimately grow our industry's share of the global fruit bowl."
The red variety is initially planned to be launched in Asia given the shorter marine transit times, while trials will continue in other Zespri production regions in the Northern Hemisphere to determine the commercial potential of the cultivar in different environments.
"We know there's a strong demand for a red kiwifruit and we'd love to get this fruit to our consumers sooner, but the fact that kiwifruit depends on nature's cycles means it'll take at least two years for the vines here in New Zealand to produce enough fruit to meet initial demand," explained Mathieson.
Zespri Red is the latest kiwifruit to come throughZespri's breeding programme, run in partnership with Plant & Food Research, and it has been through an extensive trial process.
"This fruit has a deliciously sweet berry-tinged flavour and vibrant red flesh and we're thrilled to see such strong demand from our initial limited sales release," said Mathieson.
"That we can make this variety available is a real credit to the growers who have been involved in our trials, our new varieties breeding programme run in partnership with Plant & Food Research, and the commitment to innovation within Zespri and the wider kiwifruit industry."
As part of the commercialisation decision, Zespri's board of directors have approved the release of at least 150ha of Red licence in 2020, based on its current assessment of budwood availability.
Further details on the licensing process and performance characteristics for Zespri Red will be made available to Zespri growers in March 2020.
Mathieson confirmed the addition ofZespri Red would assist Zespri in reach its ambition of reaching NZ$4.5bn (US$2.87bn) worth of global sales by 2025.
"Zespri is committed to providing the world's leading portfolio of premium kiwifruit and we're looking forward to even more consumers being able to try Zespri Red in the years ahead as we increase production to commercial levels," said Mathieson.