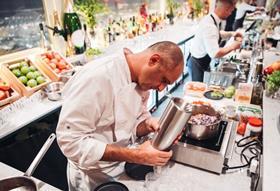 French interprofessional organisation Interfel was in Dubai last week to promote the freshness and high quality of French fruit and vegetables at the WOP Dubai (World of Perishables) exhibition.
In total, 12 French fruit, vegetable and potato organisations took part in the event, which was held at the World Trade Center on 1-3 October, as part of the three-year 'European Rendez-Vous' project.
Interfel organised a soirée at Hilton Al Habtoor City to showcase the unique recipes created by Interfel chef Charles Soussin, all of which highlighted the quality and flavour of French fruit and vegetables.
The UAE's five-star hotels and restaurants, and their international chefs, favour the high quality of French vegetables, including heirloom tomatoes, artichokes, shallots and potatoes.
The Middle East accounts for 13 per cent of French apple exports, making it a key market for French apple exporters. The UAE and Saudi Arabia together make up more than 70 per cent of French apple volumes exported to the region, which stand at around 60,000 tonnes a year.
The hot, sunny summer conditions contributed to an earlier apple harvest in some parts of France, and the high sugar content and strong flavour of this season's apples fit well with the expectations of the Middle East's consumers.
Marc Rauffet, president of French apple group Innatis, recalled the first arrival of French apples in Dubai back in the 1970s and acknowledged the ways in which the market has changed.
"20 years ago, France dominated when it came to European apples in the Middle East," he said. 'Now, you look around, and you see a lot of European countries looking to sell their apples here, which pushes prices down."
In order to avoid the intense competition surrounding traditional varieties like Gala, French exporters are focused on new varieties, including Candine, Kissabel, Lollipop and the organic Juliet.
"France is making a difference with branded fruit and vegetables," said Rauffet, "respecting the environment in Europe and providing fruit and vegetables that are full of taste."
"France has a long history of exporting fresh fruits and vegetables into this market and we are committed to continue the strong partnerships," said Daniel Soares, director of international marketing at Interfel. "We strive to provide consumers in the region with France's most premium produce and the satisfaction of our partners is of utmost importance. We also value the opportunity to be present in the market and at events such as WOP, offering us the opportunity to showcase our leadership in the industry."