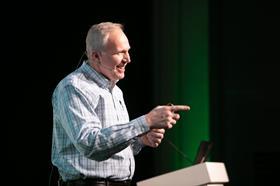 Global leader in crop protection, Adama, has announced its executive vice president of global operations, Joe Krkoska, has passed away, aged 59.
Ignacio Dominguez, president and chief executive of Adama, paid tribute to Krkoska, saying; "Joe is recognized as a thought leader in the AgChem industry who led complex operations and organizational structures throughout his career.
"He was a great role model who willingly and generously shared his passion and expertise with everyone at Adama. Joe was a key decision maker in our path towards Health, Safety, Environment and Compliance, and helped us make great strides in these crucial areas for Adama's sustainable future.
"He was an inspirational example of commitment and serenity in the face of illness and has made us better people," added Dominguez.
Krkoska joined Adama in 2018 and was responsible for overseeing the company's global operations, including corporate EHS (environment, health and safety), manufacturing, procurement, supply chain, quality, engineering, and strategic projects. He was in charge of ensuring the effective and efficient operation of 19 sites around the world.
Prior to joining Adama, Krkoska served as global supply chain director at Dow AgroSciences for eight years and had been with the Dow organization for over thirty years, serving in multiple senior positions including head of global formulation & packaging, head of external manufacturing, site director, and business manufacturing leader. His career started in R&D, doing process development, scale-up and applied R&D, and also includes large capital expansions and start-ups.