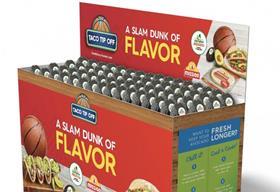 The Mexican Hass Avocado Importers Association (MHAIA) will run a cross-promotion with Mission Foods over the peak of college basketball season in the US.
Conducted through MHAIA's wholly owned subsidiary Avocados From Mexico (AFM), 'Taco Tip Off' aims to boost Mexican avocado sales and increase basket size.
The campaign will be led by in-store merchandising centred around tacos, burritos, quesadillas and more. Avocados will be sold alongsideMissionbranded pitas, taco shells and wraps, with comprehensive consumer savings to be offered.
The campaign will run until 5 April, coinciding with the National Collegiate Athletic Association's (NCAA) men's basketball tournament, commonly known as 'March Madness'.
According to the 2019 Sports Viewership Numbers report, the tournament's final game was the third most viewed sporting event in the US, following the Super Bowl and the NCAA football national championship game.
"We can't think of a better way to celebrate one of the biggest sporting occasions of the year than by providing taco inspiration and savings for basketball enthusiasts," said Stephanie Bazan, vice president of trade and market development at AFM.
Research from consumer insights company Numerator has revealed grocery trips with avocados are more valuable when combined with tortilla purchases.
'Our objective is to get more avocados in Mexican handhelds such as tacos, burritos and quesadillas, andMissionFoods is the perfect partner to help increase consumption and demand," Bazan said.
"The college basketball championships represent a great opportunity for Avocados From Mexico andMissionFoods to provide versatile Mexican handheld meal solutions for gameday viewing though our Taco Tip Off shopper marketing campaign.
"Complete with in-store displays, consumer savings and a recipe landing page for fans to create their best taco inventions at home, we expect our retail solutions to drive basket ring during the promotional period."