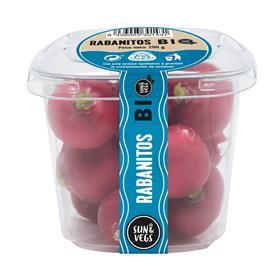 Agromediterránea has launched new sustainable packs for its organic Bio Sun&Vegs radishes made from recycled plastic that has been recovered from coastal areas and seas in different parts of the world.
The initiative forms part of the company's commitment to Prevented Ocean Plastic (POP), a project that in 2020 alone prevented more than 830m plastic bottles from polluting the sea.
The new range of Bio radishes will be sold in 100 per cent rPET packaging, designed to be as thin as possible and recyclable after use.
The company has also introduced a brand new format for radishes: a 200g tub with a lid, rather than the usual bag or flowpack, which will keep the product fresh for longer and facilitate consumption.
"We continue to innovate in order to find the best way of getting our products directly from the fields to our customers," said managing directorJesús Gómez.
"As we are continually trying out new alternatives, today we are able to offer a wide range of more sustainable options that adapt to current consumer demands."
Agromediterránea said its partnership with POP not only contributes to the circular economy and the prevention of marine pollution but also helps generate a positive economic impact in the areas in which the plastic is gathered, as the local communities are directly involved in the production of this material in a process that is certified by the organisation OceanCycle.
The company's range of sustainable packaging also includes products with zero-plastic packaging which is 100 per cent recyclable, such as its craft paper wrapping for courgettes and cellulose trays for sweetcorn.
As well as radishes, Agromediterránea's Bio Sun&Vegs brand includes courgettes, iceberg lettuce and broccoli.