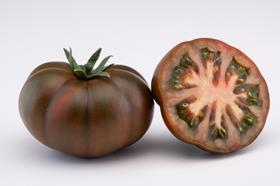 Spain's Agroponiente Group has launched a new, chocolate-coloured ribbed tomato that combines flavour with a considerably longer shelf life than other varieties in its segment.
Marketed under the group's 'Gold Quality' label, Marejada is a premium tomato which scored higher than other varieties in the Marmande segment in consumer tasting panels.
According to Agroponiente, it also has a lower environmental impact than similar varieties as it requires less water during production.
"We'll be marketing this chocolate Marmande tomato will place by highlighting its authentic traditional tomato flavour and extraordinary concentration of lycopene and nutritional characteristics far superior to those of its competitors," the company said.
Marejada is the latest addition to Agroponiente's line-up of speciality tomatoes focused on providing exceptional flavour, which also includes red and green Raf, black tomatoes and cherries.
Javier Núñez, the company's head of R&D, said Marejada represented "one more step in our philosophy of finding competitive products that satisfy the needs of the customers and the market in general, that reach the consumer and produce feelings of satisfaction".