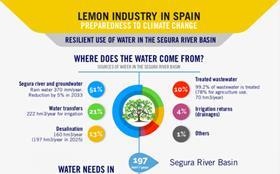 Ailimpo has published a new report detailing water use in lemon production and setting out a strategy for the optimisation of this resource in the future.
The Spanish lemon and grapefruit industry body embarked on the project to analyse and categorise water consumption within the sector and finding ways of making its use more efficient.
It sets out different strategies such as controlled deficit irrigation, the use of soil moisture monitoring tools and the installation of plastic mulching on the soil or covers for irrigation ponds.
According to the UN's Food and Agriculture Organisation, improvements in water management and agricultural practices are essential in order to reduce the risk of water scarcity and improve crop yields.
"The lemon sector has made significant efforts in recent years to optimise and reduce water consumption. Productive area using localised irrigation has increased by 268 per cent in the last 30 years," Ailimpo said.
"These advances in irrigation and fertilisation have led to a 274 per cent increase in productivity It takes 63 per cent less water to produce 1kg of lemons today than in 1988."
Ailimpo said that Spanish producers have been working for years to address the scarcity of water by developing alternative sources such as treated wastewater and desalinated water, as well as implementing technologies to reduce water consumption and to avoid evaporation.
The organisation noted that it is therefore well prepared to deal with lower rainfall as a consequence of climate change.
Ailimpo also announced that it is working on further reports covering other relevant aspects of sustainability such as carbon footprint and the social and economic impact of lemon and grapefruit production.