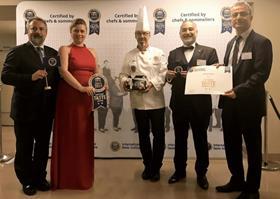 Turkish exporter Alanar, a subsidiary of Tekfen Agri, has picked up a prestigious award for the superior taste of its cherries at an evaluation conducted last month by Brussels-based International Taste Institute.
The products are scored and analysed by large panels of independent food and beverage professionals using the blind tasting method, with no knowledge of the brand, product name or country of origin.
According to the results, Alanar's cherries received a Superior Taste certificate with two golden stars, earning a score of 87.9 per cent.
The cherries are grown in Alanar's orchards in the Salihli region in western Turkey and are known for their dark burgundy colour, strong compact structure and long thin stem.
The company exports to 35 countries on five continents, selling to premium markets in Europe, the Middle East, Asia and America.
Tekfen Agri's general manager, Emrah Ince, commented: "Turkish cherries have been certified as one of the most delicious fruits by a jury of 200 people from all over the world, including Michelin Star chefs. Our goal is to achieve similar success with different fruits."