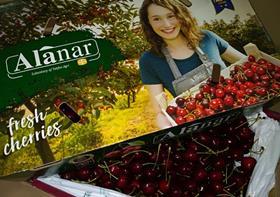 Alanar Fruit Company, one of Turkey's largest fruit producers and a subsidiary of Tekfen Agri, has invested in state-of-the-art machinery to meet the rising demand for high-quality cherries, which it exports all across the world.
Since the company sends its cherries and other fruits to challenging global markets, including to South Korea and China, it has chosen to invest in technology to help it select the perfect product to meet the growing demand.
Alanar revealed that it was now the only company in Turkey equipped with top-of-the-range Unitec Cherry Vision 3.0 technology, which was developed by Unitec's research and development department to select the highest quality cherries.
"Using this technology, which functions as a smart and fully automated mechanism equipped with high-resolution cameras that scan the entire surface area of the cherry, we are able to classify cherries with unprecedented precision in terms of outer quality, softness, size, colour and consistency," Alanar stated.
Thanks to Cherry Vision 3.0, the company is able to ensure homogeneous quality in every pack.
"Since the products that are selected are of the highest quality, we are able to ensure that we send perfect fruit to our customers no matter how far away they are, and we can seize upon new opportunities in many different markets as a result," the company said.