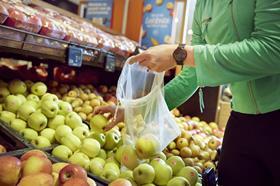 Dutch supermarket chain Albert Heijn is to remove all plastic bags from its fruit and vegetable departments and replace them with reusable, washable alternatives.
In a statement, the company said the bags would disappear from its stores by the end of 2021, a move that will end the use of around 130m individual bags – or 243 tonnes of plastic – per year.
A return system for the 31m bags used every year to deliver groceries to homes will also be introduced, it said, resulting in about 645 tonnes of plastic per annum being recycled responsibly.
"Everyone knows the plastic bags in the fruit and vegetable department," it said. "Handy for loose apples or green beans, but bad for the environment if you don't recycle them properly."
For a two-week period from mid-April, all Albert Heijn customers in the Netherlands will receive a free reusable bag for fresh produce that is weighed in store before being purchased.
Top on sustainability
This week, for the fifth year in a row, Albert Heijn was voted by consumers as the most sustainable supermarket chain in the Netherlands according to the Sustainable Brand Index.
"Over the past three years, we have saved more than seven million kilos of packaging material," revealed Marit van Egmond, Albert Heijn's general manager.
"From meal and lunch salads in a thinner bowl and thinner soft drink bottles to the completely unpackaged offering of fruit and vegetables. We keep looking at whether it can be done less."
Egmond revealed that the retailer was in the process of swapping buckets used for snack vegetables for a thinner container featuring a top-sealed layer instead of a lid.