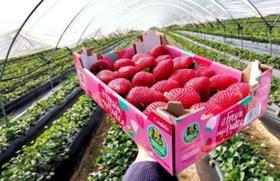 Alcampo has announced that it has increased supplies of early strawberry variety Candela sold under its Alcampo Controlled Production brand.
From this season, the Spanish supermarket and hypermarket chain has added a 1kg carton in addition to the 400g carton one introduced in 2020.
Candela is a relatively new variety of strawberry with an intense red colour and sweet flavour.
It was developed by Plus Berries-Agro Martín ten years ago with the aim of providing the group with high quality varieties adapted to different growing regions and consumer preferences.
The variety is produced using biological controls instead of chemicals to control pests in the Huelvan town of Lepe, where the supplier has around 10ha dedicated to Alcampo.
In addition, the company is part of two carbon offset projects, one to protect the forests of the Madre de Dios region of the Corridor Vilcabamba-Amboró in Peru and another focusing on purifying water through ceramic filtration systems in Kompong Chnang, Cambodia.
Alcampo Controlled Production comprises more than 200 food products developed in collaboration with small producers that recall the flavours and aromas of yesteryear, offering premium quality, traceability and social and environmental sustainability.