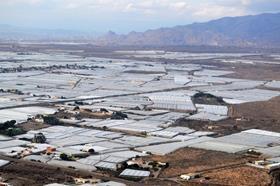 A sharp rise in cucumber and tomato sales helped lift horticultural exports from Almería reach to new record in the first eight months of 2017.
Figures from the Ministry of Agriculture, Fisheries and Rural Development show that the Spanish province exported €1.817bn of fruits and vegetables between January and August, a 12.9 per cent increase on the same period last year.
Almería accounts for one in every two euros of horticultural sales from Andalucía, which supplies 39 per cent of Spain's fruit and vegetable exports making it the leading community ahead of Valencia (23.4 per cent) and Murcia (19.4 per cent).
Germany was the leading market, accounting for €576m, a 12 per cent hike on 2016. This was followed by France at €257m, the Netherlands with €207m and the UK with €203m.
Sales to Sweden and Italy registered the biggest increases, rising 41 per cent and 23 per cent respectively.
Peppers were the number one export item raking up €439m of sales, a 5.2 per cent increase on 2016. Tomato exports were up 12.8 per cent at €406m. But the biggest growth came in cucumber sales, which rose 32 per cent to €236m.
At almost 30,000ha, Almería has the highest concentration of greenhouse production anywhere in the world and supplies northern Europe with vegetables throughout the winter months.