Harvest volumes in Piedmont and Val Venosta are at the same level as last year, with apple quality said to be good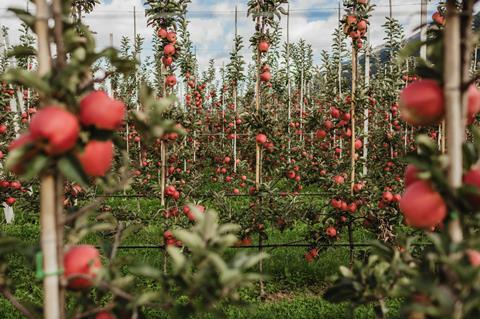 Ambrosia apples have been available on the Italian and wider European markets since the end of September 2022, after an early start of the harvest.
The first Ambrosia sales came from the Rivoira Group in Piedmont, followed by apples from Vip (The Association of Val Venosta Producers of Fruit and Vegetables), which were harvested in higher areas a little later.
"We had expected increasing quantities, but due to the summer heat and some hail, this year we are recording a similar harvest quantity to last year – in total, we have around 29,000 tonnes of Ambrosia available," said Rivoira managing director Marco Rivoira. "This means that we can guarantee delivery until May 2023 in any case.
"The apples are of good quality," he continued. "In the last days before the harvest, the colouring intensified, so we are satisfied with the quality categories."
In Piedmont, the fruit size was slightly smaller than normal, while in Val Venosta it increased by a few millimetres compared with the previous year.
"The market launch of Ambrosia traditionally takes place during the Fruit Attraction Fair in Madrid and always meets with great interest from our customers in all major European markets," said Fabio Zanesco, product manager for managed varieties at Vip.
"Consumers now know and appreciate the exceptional taste of Ambrosia," he continued. "The demand is dynamic and increases from season-to-season."
Vip started sorting the apples at the end of September; already 20 per cent of the harvest has been sold to customers in Italy, Germany and Spain, which continue to be the most important sales markets.
"Since November we have also been working intensively on marketing the apples to customers in the Middle East and Asia, who are interested in important sales programmes within the next six months,: Zanesco outlined. "Bio-Ambrosia will also be available to all our customers until January 2023."
Rivoira Group and VIP said that they are supporting retail chains again this year with tasting promotions and equipping the shops with attractive and informative point-of-sale materials.
"The new season of Ambrosia represents an established and successful positioning of this apple variety," said Rivoira and Zanesco.