Pumpkin-shaped Halloweena mandarins will debut in the UK and Spanish market this year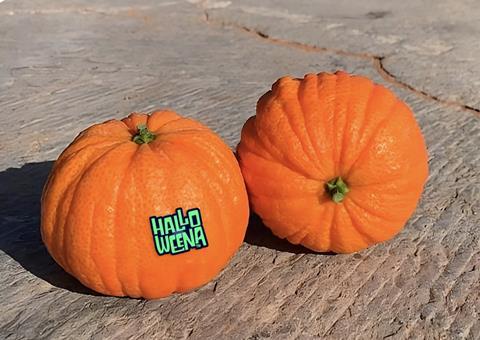 AMFresh has launched an exclusive new mandarin in time for the Halloween celebration on 31 October. Developed by the group's Genesis Innovation team Halloweena is an innovative, pumpkin-shaped easy peeler with a multi-colour skin and sweet and virtually seedless pulp.
David Alba, CEO of Genesis Innovation, commented: "Halloweena is a unique high quality mandarin variety that resembles a pumpkin, what makes it ideal as a healthy snack for the Halloween celebrations. It is a new magical addition to the world of citrus and true testament to our commitment to deliver innovative varieties to the market to excite shoppers, drive category novelty and bolster growth".
AMFresh said volumes are "exceptionally limited" in this first year of production and will be available exclusively in the UK and Spanish markets.
Halloweena's debut coincides with the continued exponential growth in global expenditure on Halloween-related goods and events. In the US alone, consumer spend on the festival is expected to surpass a record US$12.2bn according to National Retail Federation's 2023 annual survey conducted by Prosper Insights & Analytics.
"In the pursuit of healthier choices, Halloweena takes centre stage, offering a compelling alternative to traditional confectionary treats. Its natural sweetness and seedless nature make it the perfect choice for consumers looking to discover a healthy treat during Halloween festivities," said Patricia Sagarminaga, global director of marketing & communications at AMFresh.
"Halloweena is more than a fruit—it is a lifestyle choice. We have crafted a dynamic brand with a unique visual identity that unlocks a fresh, exciting world of nutritious indulgence within the heart of Halloween. We invite consumers to expand their options and explore a new horizon of healthy snacking."