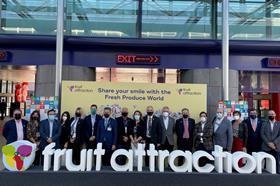 Anecoop has signed up to become a partner of the United Nations Global Compact, committing the company to a higher level of participation within the organisation.
The second-degree cooperative announced the news at October's Fruit Attraction trade fair.
President Alejandro Monzón said: "this is a logical and necessary step for our cooperative group in CSR, since our commitment in this matter is total.
"As a sector and as a cooperative, we take sustainability as standard. Currently, all the entities that make up the value chain are aware that we have to work at all stages of the process implementing ethical and responsible measures with regard to people, the environment and development. Economic."
By adhering to the Global Compact Anecoop is committed to aligning its operations with ten principles in the areas of human rights, labour standards, the environment and the fight against corruption, and adopting measures in support of the United Nations objectives currently embodied in the Sustainable Development Goals (SDGs).
Highlighting the proactive and entrepreneurial nature of the company Joan Mir, general director of Anecoop said: "we are an active part in numerous projects whose objectives are aligned with the requirements of the United Nations and the different administrations in the 2030 horizon.
"In the development and implementation of increasingly efficient production systems with low environmental impact, we have our own quality system, Naturane, which guarantees good practices from seed or seedling to dispatch, we promote the reduction of the consumption of water and the use of renewable energies, we participate in initiatives aimed at the common management of land to avoid its abandonment.
"And we work on communicating all these actions so that the consumer knows that their interests and concerns are also ours, and that We need the support of the whole of society to continue doing our job: producing food."