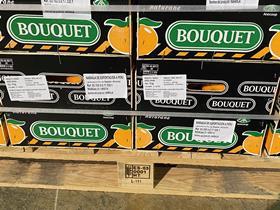 Anecoop has sent the first container of Spanish oranges to Peru following the signing of the import protocol between the two countries at the end of last year.
The shipment of 22 tonnes of Navel Lane Late oranges grown by Oliva-based Green Fruits arrived at the Port of Callao on 4 May. Following inspection on 11 May the fruit was unloaded and transferred to stores.
Negotiations to secure access to the Peruvian market for Spanish citrus and kakis began three years ago.
Green Fruits is a second-degree cooperative created from the union of three Anecoop members –Citrícola de La Safor, Novacitrus, Coopego.
Anecoop's president, Alejandro Monzón, said the shipment of this container represented "a first step, from which we hope many more will follow, to open up Spanish and European production to third countries, gradually overcoming the barriers that make equality and reciprocity in commercial relations".
The general director of Anecoop, Joan Mir, and commercial director Miguel Abril expressed their "optimism and satisfaction that it is Anecoop and its partners who have inaugurated this new commercial route between Spain and Peru, and that it has been with a product as emblematic as oranges".
Anecoop exports to 81 countries with Europe as its leading destination. France is the biggest single market, taking 181,000 tonnes of fruit and vegetables last year, followed by the Spanish market with 172,500 tonnes and Germany with 161,000 tonnes.