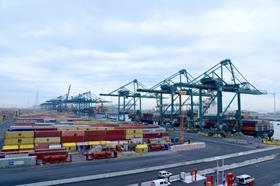 The Port of Antwerp's Covid-19 Taskforce held its first meeting today, and in doing so confirmed that the port is considered as essential national infrastructure and is important in keeping Belgium and the rest of Europe supplied.
In a statement, the taskforce said that the port remained 100 per cent operational thanks to the daily efforts and commitment of all employees.
In addition the taskforce defined various points for attention, and also set up a port monitor to survey the daily operation of the port with a view to additional measures.

The meeting was attended by key players in the organisation of the port, who confirmed that keeping the port operational was a shared priority, expressing their full commitment to its operation and to keeping the country supplied.

'At the moment the port platform is operational and there are no insurmountable problems,' the port stated. 'Handling on the terminals is going ahead normally, there is sufficient manpower available to deal with cargo, and drivers are arriving and departing without too much delay.
On the other hand the taskforce defined several points for attention which are being monitored, including the different approaches of Belgium and the Netherlands, and the availability and allocation of employees.
Several existing measures were reconfirmed, such as basic preventive hygiene measures, providing sufficient cleaning aids in machines the digital exchange of documents so as to limit human contact to the minimum, and observing the rules of social distancing.
'At the moment Port of Antwerp has not seen any decline in the freight volume,' the port outlined.' However, it is expected that fewer ships will call at the port in the coming days and weeks because of the coronavirus outbreak. 15 fewer large container carriers from Asia will call, corresponding to 115,000 TEU less freight being carried from and to China.
'The logistics chain is functioning normally and is dealing well with peaks in market demand. The demand for foodstuffs and healthy foods such as bananas has risen, which has led to a rise in imports of these products. Here it is necessary to emphasise the importance of keeping Europe's borders open for all forms of freight transport. Port of Antwerp will monitor the situation continuously, and will continue to react to the demands of logistics operators and terminals.'