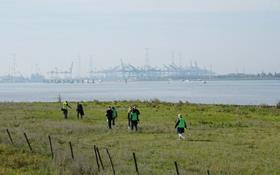 Along with its partners in the Great Saeftinghe nature park, located on the border between Belgium and the Netherlands, Port of Antwerp has issued a Request for Proposals aimed at farmers on the Left Bank of the River Scheldt, as part of a drive to promote nature-inclusive agriculture.
The aim of the request, according to a statement from the Port of Antwerp, is to contribute towards the quality of the natural environment, while helping to build agriculture's economic future.
The port revealed that an Agriculture Innovation Fund had been set up in order to stimulate innovative solutions.
The Great Saeftinghe Border Park has been established within a tripartite landscape of nature, agriculture and docklands, stretching across the border between Belgium and the Netherlands, in and around the 'Drowned Land of Saeftinghe' nature area.
According to the Port of Antwerp, innovative solutions are necessary in order to achieve optimum synergy between agriculture, the port and nature.
"Since 2017, the Port of Antwerp has collaborated with Flemish and Dutch farmers to develop harrier-friendly crops, which are a win-win both for the economic objectives of the farmers and for the ecological objectives of the port," it stated.
Nature-inclusive agriculture, the port said, makes optimum use of the natural environment, incorporating it into the business model.
"This form of agriculture has a positive effect on biodiversity and actively contributes to the quality of the natural environment, making it possible to restore the habitat of protected species such as the western marsh harrier."
As a partner in the Great Saeftinghe border park, Port of Antwerp has been taking initiatives since 2017 aimed at developing nature areas and supporting innovation in agriculture, by making consultancy services available free of charge.
"This new Request for Proposals is specifically aimed at promoting initiatives by local farmers that are tailor-made for them," it stated.
The Agriculture Innovation Fund will support farmers on the Left Bank who are willing to adapt their practices to create added value for wider land-use objectives, both for landscaping and for nature protection.
Farmers on this land have until 14 August to submit project proposals, the port said, with at least 20 farmers set to receive financial support for 80 per cent of the cost of drawing up a suitable business plan, up to a maximum of €5,000 per farmer or per project.
Subject to approval by outside experts, the proposals stand to obtain further support of up to €25,000 per farmer for investments, additional help and advice on implementation. The main criteria, according to the Port of Antwerp, are that the proposals should be a win-win for both farmers and the natural environment.
'As a port we aim to play a pioneering role in the field of innovation," said CEO Jacques Vandermeiren. "With our contribution to this fund we want to support an innovative and sustainable model of agriculture. This not only opens up an avenue for the economic development of the farmers, but also boosts the synergy between port, agriculture and nature in this area.'