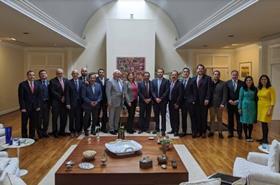 Mexican avocado producer and exporter association Apeam and the Mexican government met in Washington DC to highlight the importance of maintaining strong trade links between the two countries and analyse the potential of further boosting exports of the green fruit.
The meeting, which took place within the USDA's Agricultural Outlook Forum, discussed the need to improve quality, safety and logistics within the sector in order to reach more export markets.
It also highlighted the importance of science and technology in raising productivity levels in a sustainable way.
Gabriel Villaseñor, president of Apeam, praised the hard work of growers, packers and the Mexican Hass Avocado Importers Association that had helped lift US avocado consumption from 0.5kg to 3.5kg per capita in just over 20 years.
"The recent Super Bowl 54 once again raised the profile of Mexican avocados and thanks to the effort of the entire value chain, last year's exports increased by 4 per cent over the previous year, reaching a new record," Villaseñor said.
Martha Bárcena, Mexico's ambassador in the US, added that Mexican avocado exports to the US were "a source of pride that generates hundreds of thousands of jobs in both countries".
More than 84 per cent of avocados produced in the state of Michoacán are shipped to the US. Given the surge in demand there has been in this market, Mexico is looking to add more states to those permitted to export avocados to its northern neighbour.