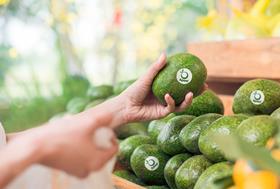 Plant-based protection specialist Apeel has announced the creation of a retail advisory board, bringing together industry experts from the grocery industry.
Led by Apeel's vice-president of retail advisory Jim Smits, the council will work with retail partners to ensure that Apeel's category management programmes 'improve the ever-changing landscape of the retail industry' in the areas of fresh innovation, consumer engagement and supply chain optimisation.
The ultimate aim is for retailers carrying Apeel protected produce to see higher unit sales, minimal waste, and provide more value to customers – especially during times of high price inflation.

The council comes together at a time when Apeel's supplier and retailer partnerships are rapidly expanding, most recently landing on grocery shelves throughout the UK.
'With 40 retail partners across North America and Europe carrying Apeel produce from more than 40 supplier partners across tens of thousands of stores around the world, more consumers will be able to access longer-lasting fresh produce including avocados, limes, lemons, oranges, mandarins, mangoes and organic apples,' Apeel stated.
The newly appointed Retail Advisory Council will aim to further strengthen Apeel's retail alliances and help ensure retailer partners are able to offer a differentiated and quality experience to their shoppers.
With today's announcement, Apeel introduces its first three members of the eight member council.
These include Steve Mayer, senior vice-president of merchandising at Raley's of Arizona; Andy Adcock, who brings almost 30 years of retail experience leading commercial operations and holding senior positions at Sainsbury's, Asda and multinational retailer Marks & Spencer; and Tony Mitchell, vice president corporate produce and floral at Associated Wholesale Grocer and a IFPA retail council member.
"Retailers throughout Europe and North America are working hard to react to the rapidly changing buying behaviours and preferences of consumers as they look for more convenience, better value, and innovative products, especially in fresh," said Smits.
"As such, grocers have new opportunities to provide a differentiating credential of sustainability, as well as a guarantee for longer-lasting quality which is why we're excited to pull together a team of experts to help us work with our retail partners to deliver the best fresh produce experience online and in-stores."