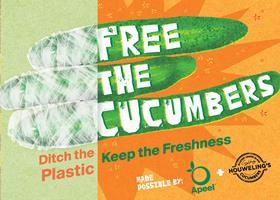 Apeel Sciences has today (2 October) announced an agreement with Houweling's Group, a greenhouse grower and marketer dedicated to delivering fresh tomatoes and cucumbers while constantly innovating to reduce its environmental footprint.
The partnership will give Houweling's Group access to Apeel's plant-based technology to replace the single-use plastic wraps on its English cucumbers, reducing food and plastic waste at the same time.
'We are so excited to partner with Houweling's Group knowing that sustainability is built into the fabric of their organisation and we have the same mission of reducing the amount of waste that ends up in landfills every year," said Gordon Robertson, Apeel Sciences' chief revenue officer. "Our growing network of suppliers is committed to using our technology to deliver longer-lasting produce, but we are incredibly proud to see Houweling's utilise our technology as a way to replace the use of plastic wrap which will ultimately eliminate thousands of pounds of plastic waste per year."
"We have a rich history of investing in green business practices, leading the industry to a more sustainable future, which is why Apeel is the perfect partner to help achieve our goals in protecting the planet," said David Bell, CMO of Houweling's Group. "We saw an opportunity with Apeel's unique plant-derived solution that has proven to reduce food waste, but when we recognised Apeel could be used as a complete replacement for the functional plastic wrap on cucumbers, we became really excited.
'With the launch of Apeel-treated Houweling's cucumbers, we will be addressing a significant pain point for environmentally conscious consumers,' Bell added. 'This enables us to bring sustainable solutions to our retail partners and create a pathway to significantly reduce plastic from the supply chain."
Houweling's Group partners with leading retailers on the west coast, supplying them with greenhouse grown produce year-round.
The partnership comes at a time when approximately 18bn pounds of plastic waste enters into the oceans annually. According to the UN Environment, only 9 per cent of all plastic waste produced has been recycled, revealing the crucial need to reduce plastic use at the source.