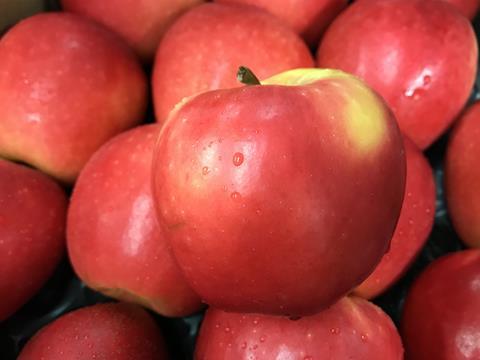 Italy is on course for a particularly positive apple export campaign this season as various factors align in favour of the country's producer-exporters.
According to new information published by industry body Assomela, Italian growers will produce a smaller crop of Golden Delicious apples than originally forecast at the start of the season, but the country is on track to produce a record volume of Gala, other newer apple types, and organic apples– all contributing to an overall crop that is in line with the previously predicted 2.1m tonnes.
And with better growing conditions meaning the overall volume of fruit for the fresh market will be around 1.8m tonnes, slightly higher than first anticipated, the fact that neighbouring countries France and Spain are expecting to produce fewer apples in 2020 gives Italy a favourable commercial landscape as it heads towards the end of the year.
'In terms of varieties, we can confirm that production will definitely be below average for Golden Delicious, but at record levels for both Gala and the 'new varieties,' the organisation said in a statement following a meeting of its marketing committee earlier this week.
In the case of Gala, recent plantings are understood to be moving the variety closer to market saturation, Assomela warned, but for the newer, licensed varieties the picture was more promising.
'When it comes to the group of club varieties, the trend is still judged to be positive and shows that consumers are paying attention to new varieties,' it added.
Positive spin
The impact of frosts, hail and the country's brown marmorated stink bug infestation on this season's Italian apple production during pre-season was less than initially feared.
Climate conditions were not excessively hot either, allowing for good fruit growth, sizing and quality in all production zones.
'For these reasons, the volume of fruit destined for the fresh market will be slightly higher than expected,' Assomela stated, noting that this was considerably lower than in recent campaigns.
Italy's organic apple production will be a new record at 185,000 tonnes, which is about 9 per cent of the national total.
'From a commercial point of view, the market started in a rather dynamic way, registering good performances even in the first few days of November, a month which tends to be quite calm from the point of view of sales,' the group continued.
'The decumulation plans have already been set up and sales are proceeding regularly in Italy, in the EU and also in non-European destinations, starting more slowly both due to the uncertainty linked to the Covid emergency and because there are still goods available from the Southern Hemisphere.'
Overall apple volumes in the EU are set to be around 10.7m tonnes this season but, to Italy's clear advantage in various export markets, there is going to be less fruit available from France and Spain.