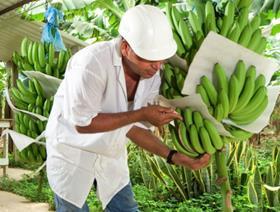 Argentina's plant health authority, Senasa, has given the green light for imports of Colombian bananas.
The decision comes a week after Colombian pineapples were granted access to the Argentine market and reflects the strengthening of relations between the two countries in recent years.
"This is a very important step, not only because of the foreign exchange generated by these exports, but also because of the employment generated by these agricultural activities in the country," said Colombia's ambassador in Argentina, Luis Fernando Londoño Capurro.
Colombia exported almost US$918m of bananas in 2017, with shipments for the first quarter of 2018 totalling US$224.1m.
Colombia's Minister of Commerce, Industry and Tourism, María Lorena Gutiérrez, said the government's market diversification policy had opened up new markets for Hass avocados, pineapples, pitahaya and other products."