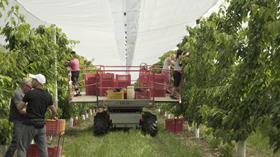 Italian agriculture textile specialist Arrigoni has unveiled a new communications campaign that centres around its philosophy of 'green healthcare', addressing environmental issues by combining sustainability and entrepreneurship.
According to the company, the campaign starts with an original corporate video that tells how Arrigoni's sustainable high technology applied to agriculture can be the key to meeting the planet's environmental challenges.
These challenges included feeding 9bn people, preserving soils from degradation and pollution and water from intensive exploitation, growing healthy products in abundance by minimising the use of pesticides, while protecting crops from the most extreme weather events.
The video introduces the audience to the concepts that inspire Arrigoni's mission and uses the language of documentaries on environmental issues, while telling the story of Arrigoni's response with a journey through the group's projects and products.
'The sustainability of our agrotextiles is one of our priorities: indeed, we find a kind of alliance between agrotextiles and nature, capable of promoting greater harmony in agriculture,' said CEO Paolo Arrigoni. 'Through our work, we want to change the way food is produced and consumed.
'For crops, harmony means growing and developing in a favourable environment, he added. 'This can be created thanks to our 'House of nettings', innovative screens that allow plants to 'dialogue' and relate to the territory, thus absorbing the power of nature – air, water, sun – while benefiting from protection against external climatic events and insect attacks.'