Study conducted in France found that the Prisma shading range reduced watering needs by up to 50 per cent
Agri-textile specialist Arrigoni has said that recent trials performed in France offered "fresh confirmation" of the quality and efficiency of its solutions, not just for active protection against insects and diseases but also for shading crops and saving water.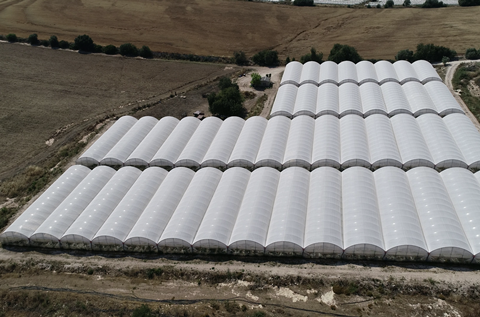 The results of a three-year trial conducted at Biltzheim in the Haut-Rhin département demonstrated "concrete proof" that the Arrigoni Prisma range was the most effective in terms of shading crops, mainly tomatoes, reducing the need for watering by up to 50 per cent.
The trial was performed during 2022 as part of the Acse programme, sponsored by the government, ADEME (the French Agency for Ecological Transition), and Grand Est and Climaxion, the ADEME programme which supports energy transition and the circular economy. 
The study assessed the efficacy of new whitewashing products, which were then compared with the Arrigoni Prisma range.
Prisma was found to be "the most beneficial method", reducing peak temperatures by almost 10°C compared to an unshaded tunnel.
Figures that emerged during the trial revealed that Prisma could actually be twice as effective as a whitewashing product, with the study noting that the temperature reduction in whitewashed tunnels was about 5-7 degrees depending on the tunnel.
"We are delighted with the findings of this entirely independent test," said Arrigoni CEO Paolo Arrigoni. "It proves that our investments in materials and the latest technologies for crop protection produce genuine proactive solutions, able to deliver effective responses even in more and more extreme situations.
"Prisma is an emblematic example, since it is at least a medium-term investment, having a guaranteed lifetime of up to five years."