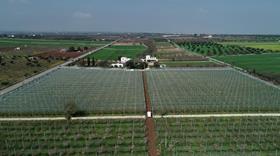 Protective agricultural textile leader Arrigoni has highlighted how, at this crucial stage of production for many European crops such as stonefruit and kiwifruit, its Iride range can help protect from the many variables faced at this time of year.
The Italy-based company pointed out how growers of apricots, cherries, peaches, plums, kiwifruit and almonds often face the threat of pests like the Brown Marmorated Stink Bug, or of extreme atmospheric events like hail and frost.
These extreme weather events are becoming more frequent, including storms, hail, droughts and heat waves, with the annual Legambiente report suggesting over 500 extreme phenomena had occurred in the last ten years, many of which had caused damage to crops.
Arrigoni said that its Iride range of anti-frost and hail-proof agrotextiles offered nets ideal for covering tunnels, greenhouses, and orchards, while revealing it had developed a specific version, Iride Multi Pro, to protect produce from the Brown Marmorated Stink Bug.

Other parasitic threats include the Drosophila Suzukii and Ceratitis with Arrigoni's Biorete range designed to protect from these pests.
"Several studies confirm that we must live more and more with climate change,' said CEO Paolo Arrigoni, 'and for this reason our company is also developing increasingly targeted proposals. At the same time, we must not forget the whole chapter of parasitic insects, which can damage the work of years. For this reason, today we are able to offer integrated solutions that respond promptly and effectively to the needs of agriculture professionals.'