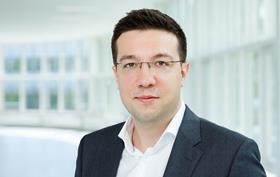 Asia Fruit Logistica organiser Global Produce Events (GPE) has announced the appointment of David Axiotis as executive director of Asia's leading fresh fruit and vegetable trade show.
Axiotis has more than a decade of experience in the trade show industry and will lead all Asia Fruit Logistica activities.
Based in Shanghai, Axiotis comes with a dedicated China team to reinforce the trade show's existing team based in Bangkok, and this will significantly strengthen Asia Fruit Logistica's footprint in China, GPE said in a media release. The setup is complemented by GPE's global network of regional sales representatives covering over 120 countries and regions worldwide.
Axiotis takes the virtual stage at Asiafruit Congress on 28-29 September for an exclusive interview with Fruitnet's managing director Chris White.
"I am sincerely thrilled and honoured to become a part of the Fruit Logistica family," Axiotis tells White.
"With this new setup, led out of mainland China, Asia Fruit Logistica is getting even closer to its partners in the region.
"We are already setting the foundations not only for a strong return in 2022 but also beyond that for continuing the tremendous success story of Asia Fruit Logistica in the years to come."
Asia Fruit Logistica returns to Hong Kong in September 2022, and Axiotis says planning for the event is already well underway.
"It's now less than one year away, and there's a huge amount of planning and preparation that goes into a trade show," he notes. "It is a big task to bring together 800 exhibitors and 12,000 visitors from all over the world as we did for our last trade show. That's why it's especially important now that we hit the ground running with this new setup. All preparations for Asia Fruit Logistica's return in 2022 are already well underway".
The next edition of Asia Fruit Logistica returns to Asia-World Expo in Hong Kong on 7-9 September 2022, with Asiafruit Congress taking place on 6 September 2022.
Exhibitor and visitor online registration for Asia Fruit Logistica 2022 will be live soon. Visit asiafruitlogistica.com for information and updates.
Register here for Asiafruit Congress to watch David Axiotis' interview with Chris White.