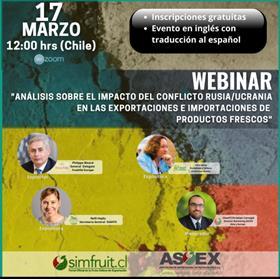 A group of leading fresh produce organisations have got together to organise an online webinar analysing the impact of the Russia-Ukraine conflict on the global trade in fruit and vegetables.
The event, which will take place via Zoom on 17 March at 4pm CET, is being organised by Asoex, Freshfel Europe, the Southern Hemisphere for Fresh Fruit Exporters (SHAFFE) and Simfruit.
Charif Christian Carvajal, Asoex's marketing director for Asia and Europe, will moderate the conference.
"Our purpose is to analyse the impact that the conflict between Russia and Ukraine is having on exports of fresh products, especially fresh fruit, also visualising its future impact, either at the level of exports, as well as imports in the destination markets," Carvajal said.
"For this reason, we will hear from Nelli Hajidu, general secretary of SHAFFE, and Philippe Binard, general delegate of Freshfel Europe, who will deliver an analysis of the situation. "Likewise, Irina Koziy, editor of Fruitnews Russia, a new services specialising in fresh produce, will also provide us with a vision in this regard."
The webinar will be in English with translation into Spanish. To register for free click: https://us02web.zoom.us/webinar/register/WN_lgn3hyh_RVmRCin4k6iFAw