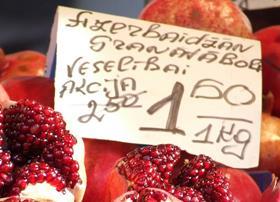 Azerbaijan is planning to invest in new distribution centres in Russia's Ural region designed to improve the shipment of fresh produce exported to Yekaterinburg, in the far east of Russia, according to the Azerbaijan Press Agency (APA).
Quoting local press sources, APA said an Azerbaijani government spokesperson had confirmed the country's intention to establish a new logistics hub to serve as a more effective channel for fruit and vegetables into the Russian market.
Azerbaijan's consul general in Yekaterinburg Sultan Gasimov is understood to have met recently with Alexei Orlov, deputy prime minister of Sverdlovsk Province, to discuss planned improvements to the fresh produce supply chain currently serving the trade between the western Asian country and far eastern Russia.
According to both officials, the volume of Azerbaijani fresh fruit and vegetables entering Sverdlovsk is sizeable and therefore warranted new investment to create distribution facilities that offered modern sorting, grading and packing systems.
'We are ready to construct these storehouses with the participation of International Bank of Azerbaijan,' Gasimov commented.
Azerbaijan's fruit export trade currently makes up just 1 per cent of its total exports, generating US$239.3m in January-November 2012, according to the national State Customs Committee.
Data published by the country's State Statistical Committee, meanwhile, showed that between 2005 and 2009 fruit production in Azerbaijan was dominated by apples and hazelnuts, both of which accounted for an average 23 per cent of total production area.
Other key products included pomegranates, persimmons and various types of stonefruit such as plums, peaches and cherries.