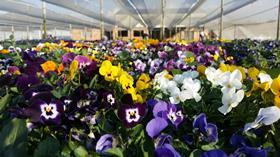 South African vegetable exporter Yukon says that, with the days getting shorter and darker in the Northern Hemisphere and the festive season approaching, its customers, chefs and home-chefs are looking for gastronomic excitement.
"At Yukon we have just the solution,' said Hans Christiaan Muylaert-Gelein, managing director of the Unlimited Group, owners of Yukon. 'For over 25 years Yukon has been growing and packing a unique range of baby vegetables in South Africa."
Bringing a new and inspired look at baby vegetables and edible flowers and herbs, Muylaert-Gelein presented new options for the festive season and the winter.
"Our 'babies' are harvested daily and delivered across the globe with customers enjoying our products from Vancouver to Hong Kong and from Oslo to Madrid,' he explained. 'Our farming operations are spread over South Africa's diversified geographical regions which allows us to grow our products all year round."
Most of the company's products are grown outside in the open field under the African sun. "Our farms comply with the highest ethical, hygiene and environmental standards. Our range consist of over 20 different baby vegetables and there are plenty of flavours, shapes and colours to explore and get excited about," he outlined.
Consumers who are looking at something to lift their spirits, will be inspired by the offer, Muylaert-Gelein said. "Our baby vegetables are grown to the perfect proportion to be an accompaniment to fish or meat dishes but increasingly our unique products themselves increasingly 'babies' take centre stage.
"Never before have we seen such a veg-centric approach. Gone are the days when being a vegetarian meant you had to compromise on flavour and sparkle. Restaurants are leading the way and the chefs pride themselves on creating tasty and wholesome vegetarian menus. At home, with many families opting for a flexitarian life-style we see the same dynamic happening."
Yukon has complemented its traditional baby veg offer with a "leafy" bunched range of colourful carrots, leeks, beetroot and turnips.
"Through our partnership with Pico, we have added a range of edible flowers and flavourful micro herbs,' he said. 'They are very easy to use. The flowers are used in salads and desserts. Violas, cornflowers, nasturtium and wild garlic flowers are some of the more popular ones.'
Muylaert-Gelein said the company was inspiring new flavours and tastes with the range of micro-herbs which offers 'frivolous and tasty decoration options, such as Oyster Leaf, Fennel Fronds, Butterfly Sorrel, Amaranth and Coriander'.
He says as part of Yukon's sustainability drive, the company will be launched in a brand new packaging early next year.