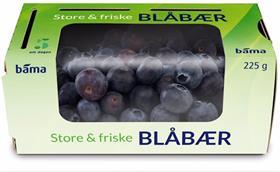 A new and innovative product for blueberries has lead to Norway-based Bama Packaging winning a ScanStar award for packaging in Scandinavia in 2019.
The new packaging, sorted as cardboard when recycling, came into use this year and is the result of close collaboration with Bama's customers to reduce the use of plastic.
"The development of environmentally correct packaging solutions is quickly on the rise, something which we are very happy to see,' said øyvind Briså, executive vice-president at Bama and chairman of Bama Packaging. 'We are proud to receive the ScanStar Award and are going to continue the important work of sustainability and plastic reduction."
The packaging contributes to a reduction of nearly 170 tonnes of plastic per year, according to Bama, while the overall amount of packaging is reduced by 30 per cent, which corresponds to a 48 per cent reduction in CO2 emissions.
"The shape of the packaging also allows Bama to increase the volume of freight in trucks, yet the new packages contain the same number of berries as the plastic containers," Briså added.
Bama noted that, with this new packaging, the number of rail cars needed to transport 2,000 tonnes of blueberries from Morocco is reduced by 57 per cent.
'From a sustainability perspective, it is important to use as little packaging as possible, but as much as necessary,' the group stated. 'Fruits and vegetables must be packaged to prevent them from drying out and causing food waste. The new packaging safeguards both the food and the environment, and is mainly made of fibers from trees in Scandinavian forests and developed in Norway.'