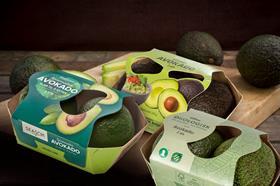 Norwegian retailer Bama has addressed consumer concerns over the volume of water needed to produce the avocados it sells.
In a news story published on its website, the group said it deliberately avoided sourcing avocados from areas with significant water stress. It also pointed out the relatively low amount of water needed to grow the fruit when compared with meat production.
"Sustainable production and water consumption are important for Bama and for our customers," it said. "Therefore, we work closely with producers who can take care of production in the best possible way, and implement measures and methods to use as little water as possible."
According to Bama, it imports around 9,000 tonnes of avocados each year, all from GlobalGAP-certified farms.
These are procured mainly from Peru in the period April to October, and from Chile from September to April.
It also imports smaller volumes from countries including Columbia, Israel, Kenya, Spain, Mexico and South Africa, in order to cover the shoulders of those main seasons.

"It takes a lot of water to grow avocados," the company admitted. "In some areas, people are not blessed with lots of fresh and clean water, as in Norway. We therefore do not buy avocados from the Petorca area in Chile, but from the Aconcagua area further south. There, they use rainwater sources from the Andes."
Constant challenge

Even in those areas of Chile where its avocados are grown, Bama said, work continues to reduce water consumption with the help of energy- and water- efficient equipment – for example drip irrigation and remote-controlled water sensors.
"The trees are also planted densely, so that they develop smaller leaves and branches that need far less water."
It even has an agronomist on the ground in South America to keep track of challenges to do with plant health, water consumption, new technology, deforestation, and sustainability.
More broadly, Bama wants people to put avocado production in context. "Did you know that meat production is the biggest drain on agriculture?" it asks at the end of the article.
"It takes almost eight times more water to produce one kilo of beef compared with one kilo of avocado. One of the most important things we can do to reduce our water footprint is to eat less meat."
In December 2021, Bama received a WorldStar award for its sustainable avocado packaging, Introduced back in 2020, the fibre-based packs can be processed mechanically and were apparently the first of their kind to be used anywhere in the world.