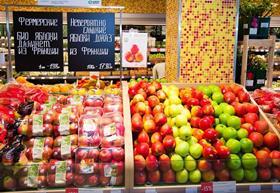 Russia's embargo on US and EU food imports has necessitated a major switch by the country's importers to alternative sources.
"There have been very big switches to other origins," says Valya Varvaritsa of importer Globus. "Less known origins such as Uzbekistan and Armenia are really strengthening."
One of Russia's stated intentions when it introduced the ban was to bolster the country's own food production capability in order to increase food security.
That aim has been largely ignored in the media, but, according to Varvaritsa, significant progress has been made.
"Local production has grown a lot and rapidly," she says, "and it's not just vegetables. There is now a big production of local vegetables, but it's much easier and quicker to speed up production. We were more surprised that there were still Russian apples available in May. Last year, we still had a lot of apples in storage, so there were few possibilities for Argentine and Chilean apples. Right now there are lots of local apples available."
Varvaritsa compared a single day, 20 November, from this year and the last. "In 2015, we had 50 tonnes of Serbian apples and 15 tonnes of local apples," she said. "This year, on the other hand, we have 15 tonnes of Serbian apples and 54 tonnes of local. So the switch is clearly happening."