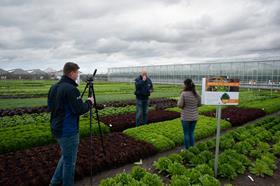 BASF is once again hosting its Salad Demo Days in 's-Gravenzande, The Netherlands. From 27 September to 1 October, the hybrid event will feature a combination of live and virtual experiences allowing BASF to share its latest innovations and discuss market and consumer trends with customers all over the world.
The vegetables seeds company said it believes in partnering with customers through the entire value chain- from Farm to Fork, and is motivated to collaborate and co-create new ideas and concepts, based on the latest market and consumer trends.
This year's programme includes live mechanical harvest demonstrations for iceberg and romain and Nunhems MultiTeen Teen leaf lettuce, visits to a high-tech lettuce research facility, and discussions on convenience and chef's lettuce and concept-ready specialities.
This Salads demo features the latest innovations with a focus on the added value for the whole chain, and its applications for more efficient and sustainable farming.
"As it will be possible to physically visit the demo field this year, BASF has decided to host the event on-site.," the company said.
"However, in the interest of public safety and to facilitate international customers, the event will also be available online. Last year most customers couldn't come to the field, so we decided to take the field to them. As we didn't want to miss the opportunity to connect with customers, the digital version will continue."
The company is offering personalised customer visits allowing clients to plan their meeting with the sales specialists ahead of the event.
For virtual visits, BASF has developed a digital tool to provide customers with a real field experience.