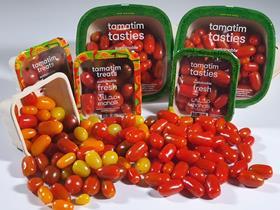 A year after the official opening of its climate-controlled greenhouses in the United Arab Emirates (UAE), German group BayWa has revealed that it has made a positive assessment of the project.
The group, which implemented the project as a joint venture with Al Dahra Holding, LCC, Abu Dhabi, used the past year to optimise production-related processes and expand the range of locally grown premium tomatoes to four varieties – thereby demonstrating that it is possible to grow fruiting vegetables in challenging climates.
"Over the last year we have built up very important knowledge in this area, and we have become even more convinced that we should continue and expand our greenhouse production," said Benedikt Mangold, head of global produce at BayWa. "The cooperation with our partner Al Dahra was excellent."
Climate change and the growing desire for self sufficiency in many regions of the world mean more goods grown in climate-controlled greenhouses will be sold on the market in the future, he continued. "That is why we are generally interested in further projects."
Of the tomatoes consumed in the UAE, 89 per cent are imported. Because of the climate, there is no domestic production from July to October.
"We continued producing through the Arabian summer, thereby showing that we can continually supply the domestic market, 365 days a year – as planned,' explained Georg Czerny, managing director of TFC Middle East.
European imports have a strong reputation among consumers in the UAE, and the tomatoes grown in Al Ain meet the same high quality standards, but can be sold at a lower retail price and have a significantly better environmental footprint because they are produced locally in climate-controlled greenhouses.
The challenging production conditions in the UAE require specific process management, such as the continuous operation of the climate-controlled greenhouses and quality control, and these processes were optimised accordingly in Al Ain over the course of the first year.
Baywa also further diversified the range sold under the Mahalli brand. Along with red snack tomatoes (tamatim tasties), it now includes snack tomatoes with mixed colours (tamatim treats), cherry tomatoes (cherry on the vine) and beef tomatoes (tomato beef) in packages of various sizes. The seedlings are grown in a separate nursery at the production location.