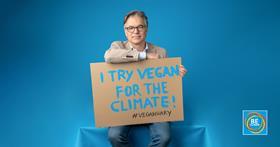 Be Climate, Port International's climate-neutral fruit and veg brand, is throwing its weight behind Veganuary for the second year in a row.
The campaign, which encourages people to switch to a vegan diet for the month of January, has grown in popularity since its launch in 2014.
Edeka, Ikea and Burger King are among the companies backing the initiative this year, together with celebrities like Paul McCartney, Brian Adams, Timo Hildebrand and New York mayor Eric Adams.
In 2021, more than 582,000 people from 209 countries and regions registered, more than 825 new vegan products and menus were launched at the beginning of the year, and more than 170 companies took part in Germany alone.
'Veganuary is not about abstinence. It is about the trial of a different and especially more climate- friendly form of nutrition," said Port International's managing director Mike Port. "Now, after the festive season, is the perfect time to think about a more conscious diet. Veganuary really surprised me last year and showed me how delicious and diversified vegan dishes can be.
"Replacing animal products with more fruit and vegetables, for example, is good for you and the planet. With our Be Climate products, this can even be done in a climate-neutral way because we calculate the CO2 emissions generated in the production process, reduce them and then compensate the remainder through certified climate protection projects."
Be Climate is supporting the initiative with internal employee campaigns and with an Instagram competition on its own brand profile, encouraging the community to share simple and tasty vegan recipes under the #vegancolourcooking hashtag.