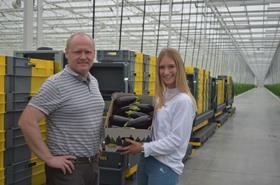 The first Belgian aubergines of 2021 were auctioned this week by the BelOrta cooperative, supplied by producer Steven Van Nuffelen of Stannuco and bought by Euro-Fruits from Le Roeulx.
According to BelOrta, Flandria aubergines remain in demand thanks to the enduring popularity of the Mediterranean diet and their use as a healthy substitute for meat.
BelOrta's growers supplied a total of 12,600 tonnes during the 2020 season, which runs from February to November. This year, production is likely to rise, since the area dedicated to ​​aubergines is set to increase by 6 per cent to 31ha.
In addition to its classic Flandria aubergines, BelOrta also sells Turkish aubergines, as well as "Oven & Grill" packs complete with oil and herbs, ready for the oven or the barbecue.