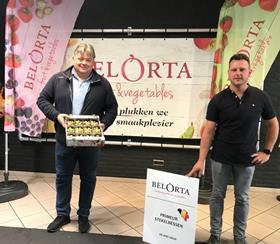 Fangio Winckels (left) and Steve Vandercappellen
Belgian cooperative BelOrta has announced the auction of the first gooseberries of the year, grown locally by BelOrta producer Steve Vandercappellen of Vort in Borgloon.
The first box, containing twelve 125g cartons of the Xenia variety, was bought by buyer Fangio Winckels of Bouvry in Bruges.
According to BelOrta, gooseberries will be available from now, starting with protected cultivation, until the end of August, with the production peak occurring in late June to early July.
The main variety offered by the cooperative is Achilles, which benefits from a good shelf-life and colouration. BelOrta's production area for gooseberries remains stable at around 12.5ha.
According to the company, almost all its berries, which also include blueberries, raspberries, blackberries, blackcurrants, white currants, kiwi berries, cherries and strawberries, are available in organic and offered in various types of packaging.