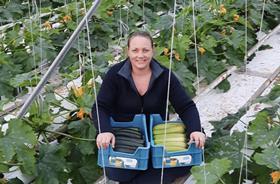 This week the new courgette season started at Belgian cooperative BelOrta, with the sale of the first courgettes, including white courgettes and courgette flowers, or fleurs de courgette.
Lier-based producer Anne Mortelmans supplied the first volumes of green and white courgettes, bought by Belgian Fresh Food from Antwerp.
The first courgette flowers came from Dirk De Wit of DLT in Duffel, which were bought by Noëlla Broos from Knokke-Heist.
For the 2022 season, BelOrta's producers will supply almost 12m courgettes, including 9.4m green courgettes. "This means that consumers can enjoy our courgettes until the end of October," the cooperative stated.
BelOrta said it offered a wide range of locally grown courgettes for all preferences: green, bright yellow and white; long, round and mini; and both conventional and organic.
"The tasty zucchini, for example, is a young-harvested 'mini zucchini' with a soft texture, which is perfect for grilling," the cooperative said. "The round Zucchini de Nice is ideal as an alternative to stuffed tomatoes. Lastly, BelOrta offers fleurs de courgette. These small zucchini fruits, which take their name from the fact that the flower is still attached, are considered a true delicacy in culinary circles. Due to the delicate nature of this exclusive vegetable, Fleur de courgette is only available on request."