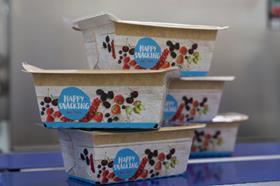 This week, Belgian cooperative BelOrta announced the launch of its first cardboard punnets for berries, protected with a layer of topseal, in response to the demand for more sustainable packaging and action on plastic waste.
Bearing the company's 'Happy snacking' logo, the punnets will initially be used for berries before being extended to a larger range of fruit and vegetables.
"Sustainable entrepreneurship has been a commitment which BelOrta has taken up in many areas for many years," said Sofie Lambrecht, head of the company's marketing division. "With the introduction of these new cardboard punnets, we once again emphasise the absolute attention we give to it. The trend that consumers have a changed vision on plastic has long been unmistakable.
BelOrta strives to create innovative packaging solutions that are both good for the environment and attractive to the eye. This cardboard punnet with topseal combines both and will undoubtedly stand out in the vegetable and fruit array."
The line responds to two current demands from consumers, the first for convenient, healthy snacks and the second for a response to the problem of plastic waste.
"Raspberries, blueberries, blackberries are the perfect healthy sweets to eat on the train, at work or at school,' said Lambrecht. "Starting from Wednesday, our customers will be able to offer all our berries to their consumers in a handy travel package that is not only attractive, but also helps reduce the use of plastic."